Teaching Philosophy
Our classroom learning is creative, engaging, thought provoking, hands-on, multi-sensory and joy-filled experiences;  ensuring that our children experience the ultimate in after school Jewish and Hebrew education.
Through the use of fine and performing arts including puppetry, drama, music, cooking, workshops, debates, sports, games, apps and more – Jewish learning and living comes to life.
Jewish Heritage
WE FOSTER A POSITIVE SENSE OF JEWISH IDENTITY AND PRIDE, BY IMPARTING IN EACH CHILD AN APPRECIATION OF JEWISH HISTORY, CULTURE AND VALUES. 
Our children gain excitement in the lead up to holidays, appreciate Jewish history, and understand the importance of Jewish values and ethics through our cutting-edge Judaica curriculum. Through the years at Hebrew School, students gain an appreciation and understanding of Jewish history, Mitzvot, Israel, Jewish moral values, and general Jewish trivia. 
Festivals are preceded with carnivals, Shabbat learning comes to life with an exuberant Shabbat dinner and spirited Havdallah service, Purim brings a 'Mini Chefs' hamantashen bake, and Passover learning culminates with 'Chopped – Passover Edition' and a traditional Model Seder. Jewish heritage has never been so relevant, meaningful and alive.
Throughout our curriculums, we imbue within our children the importance of being a 'mentsch'; a moral, compassionate, responsible and giving individual. We encourage our children to take responsibility and leadership roles in their home and school environments. 
Hebrew Language
Hebrew is the language of our people.
Mastering Hebrew will enable our children to meaningfully participate in Jewish experiences.
At Hebrew School we prepare our children to fully experience Hebrew through our syllabus on listening, reading, writing and conversational Hebrew. 
Our motivational Aleph Champ reading program enables our children to master Hebrew reading skillfully and quickly.
Aleph Champ is a karate motivated Hebrew reading system that follows the age old, tradicional mesorah.
FESTIVALS & CELEBRATION
 Together with our parent organization WCRJ Synagogue, we host incredible Jewish holiday events and family celebrations bringing our learning and heritage to life. From engaging and meaningful High Holiday services, a pop up Sukkah in the park for Sukkot, Chanukah extravaganzas, a Grand Purim party & masquerade, a Lag B'omer bonfire and kumzitz, and a hearty Shavuot ice cream party – our events are not-to-be missed heartwarming community celebrations. 
Through drama, song, art, baking and stories we bring Judaism to life. Our innovated methods make learning fun and memorable.    
     
The lessons are multi-sensory and hands-on, ensuring that the students truly experience what they are being taught. The lessons are structured with discussion-starters, to create a lively, interactive classroom experience. The information truly becomes the student's own.
Our Program uses the acclaimed Aleph Champ program to ensure that your child will read fluently at the end of his/her Hebrew School experience.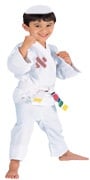 The Aleph Champion Program© is on the cutting edge of Hebrew reading today. Aleph Champ uses the color system used in Karate/Martial Arts, by dividing different reading skills into levels defined by color- "white belt to "black belt"--to motivate students. This system allows each student to move along at his/her individual pace. Whether your child is a beginner or already has some reading skills, your child will gain from the Aleph champ system. 
As the children compete and progress, we'll post our champions for each level!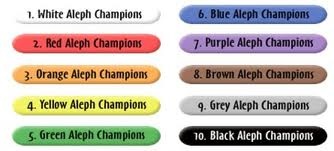 Aleph Champ Levels:
White Aleph Champion - Master the first 18 letters of the Aleph Bet.
Red Aleph Champion - Master all 32 letters of the Aleph Bet.
Orange Aleph Champion - Master the first 3 vowels with letter combinations.
Yellow Aleph Champion - Master the first 6 vowels with letter combinations.
Green Aleph Champion - Master the first 9 vowels with letter combinations.
Blue Aleph Champion - Master all the vowels and exceptions to the rules.
Purple Aleph Champion - Master reading basic prayers.
Brown Aleph Champion - Master reading higher level Tefillot.
Grey Aleph Champion - Master reading from the Siddur in a timed fashion.
Black Aleph Champion - Master reading over 100 words in a minute.
Aleph Champ
What do Karate and Hebrew Reading have in common you ask?
Karate is a traditional art that is divided into ten colored levels. Moving up a level is a proof of hard work and determination and is therefore a source of pride.  
Aleph Champ takes inspiration from Karate and divides Hebrew reading skills  into 10 colored levels. There are fun games and activities to help the students meet their goals. Moving up a level is Aleph Champ is a source of pride for students and this makes them self motivated to succeed. Self motivated students is a quality that is unique to the Aleph Champ Hebrew Reading program.
HEBREW    
Our students learn to read & write Hebrew. They gain confidence and familiarity with the Siddur-Hebrew Prayer Book.    

ISRAEL    
Our students will attain an appreciation and affection for our homeland Israel and its central place in Jewish history and life.    

JEWISH HISTORY    
The students gain an appreciation of our heritage and culture that has been preserved throughout the ages and learn the relevance of those lessons to modern life.    

HOLIDAYS AND SHABBAT    
Traditions and celebrations, exploring the Jewish Holidays and Shabbat hands-on will provide a deeper understanding for our students.    

JEWISH VALUES    
Beginning with the moral guidance of the Torah, stressing practical applications in our daily lives, our students will explore a personal Jewishness.
Every age group studies an individual Jewish culture & history curriculum. This gives a child who goes through our School a general and well rounded knowledge and understanding of Judaism.