"Gan Chaya Esther Preschool" (Garden of Chaya Esther) is dedicated in the memory of Rebbetzin Chaya Esther obm Zaltzman, (Mother of our Rebbetzin & Preschool Director, Mrs Rivka Sirota) a righteous woman who was tragically taken, on Yom Kippur Eve 2004, in a horrific car accident. Rebbetzin Zaltzman OBM dedicated her life to Jewish growth, pride, and Continuity. Under the Communist Russian Regime Being a Practicing Jew was almost impossible. Raising a religious Family under the careful eye of the secret Russian police was no easy task & required utter self-sacrifice. This did not deter Rebbetzin Zaltzman obm. She made sure there Was a Shabbos, a Passover, a Chanukah, a Torah, & even kosher meat, but most important was her battle for Jewish Education.
For Jewish education/continuity she knew no bounds, making sure to raise a completely observant family in Communist Russia wasn't enough. She would open a "underground" yeshiva enabling kids from all ages to secretly attend, learn, & take pride in their Rich heritage. Products of this "Underground activity" are dozens of Rabbis, their Families, and Communities across the Globe. After coming to America her passion to spread Judaism continued as she & Rabbi Berel Zaltzman ( May he live & be well) served as emissaries of the Lubavitcher Rebbe to the Jewish Russian Communities of Greater Los Angeles, later serving the Jewish Russian Community of Fair-lawn,NJ both physically & spiritually.
It is in the legacy of this special Woman that we dedicate our Preschool. With the dream & vision of Rebbetzin Zaltzman obm that Jewish Education, pride, and continuity come to fruition, a true Garden. It is in the walls of GCEP that kids will inherit a pride & sense of feeling of what it means to be a Jew.
**************************************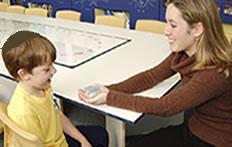 The objectives of a good nursery program is to create a warm, healthy and happy environment where small children can grow and develop emotionally and cognitively as well as physically.
At Gan C.E Preschool we strive to do this in a most professional and caring manner. Additionally, we endeavour to impart a love and flair for the beauty of our religion and culture, as well as nurture and develop faith and trust in G‑d. We hope to inculcate a love for Israel, all things Jewish and an involvement in the performance of the Mitzvot (precepts) of the Torah. Ivrit - Hebrew language is used in both formal and informal instruction and becomes a part of the daily routine, as well as holiday fun and games.
In early childhood, the seeds of learning, Jewish identity, curiosity and caring are planted. Our program spans a period of intense personal, social and academic growth. Young children develop at different paces. Our teachers are sensitive to the wide range of abilities and developmental levels within this age group. They offer creative activities that fit into the broad developmental continuum represented by the students.
Our Preschool prides itself in our staff. Teachers who guide the children and promote active learning, problem-solving, discovery of friendship and exploration of their new, expanded learning world. The classroom is a community in which Jewish values are modeled and reinforced and Hebrew language is introduced through songs, games, and simple conversation. The curriculum combines structured and unstructured activities that encourage young children's most important work-creative play. Every day is filled with art, music, stories, language, Jewish living, and hands-on exploration.
Our classroom is all well-outfitted with state-of-the-art preschool furnishings. We have our own outdoor playground and special outdoor equipment.
Gan Chaya Esther is licensed by the State of Colorado & by the Denver Preschool Program.
---
Our school is an affiliate of the international Chabad Lubavitch movement that is dedicated to spreading the wonders and rewards of Judaism throughout the globe in a nonjudgmental and inclusive manner.
Chabad today, is the largest and most dynamic unified religious, educational and social force in the Jewish world. The movement boasts more than three thousand branches in nearly fifty countries on six continents.
Nearly a million Jewish children are touched via our schools, institutions, summer camps and extra curricular programs around the world each year. Our centers everywhere serve the needs of all Jews, no matter their level of knowledge, observance or affiliation.